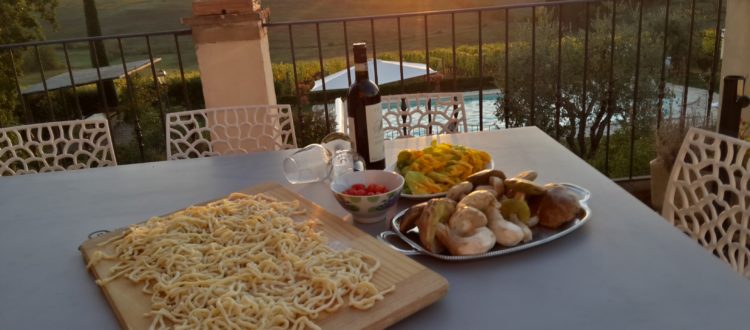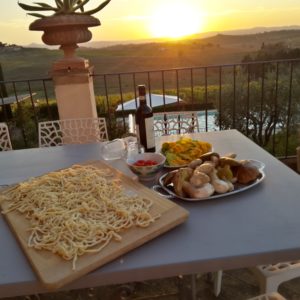 Veni, vidi, Pici.
I use this play of word from Julius Caesar's sentence (Veni, vidi, vici – I came, I saw, I conquired) for expressing the deep love that Tuscans have for this traditional handmade pasta. Yes, for the passionate about history it could be too much, but for us "Pici" are history, pleasure…and enjoyment. And today I would like to tell you about this stunning dish.
This is the most traditional handmade pasta typical in southern Tuscany, it is a kind of fat spaghetti  made of water and flour (generally from durum wheat, low in gluten). We all in Tuscany were raised with Pici, and this pasta embody history, tradition and memory of our rural past. And now the Pici are going to get the recognition of Intangible Cultural  World Heritage from UNESCO.
About me…It remembers me the Sunday lunch at  Grandma Natalina's house. I used to wake up in the morning light and I had breakfast in the kitchen looking at her already busy in kneading dough and "Appiciare" (rolling) – this is the word we use to say the movement for shaping this pasta.
No worth to say that this is one of our  main dishes at La Valiana, and I would like now to share with you the secret recipe by Grandma Natalina. The same that we follow in our Cooking Class at the villa.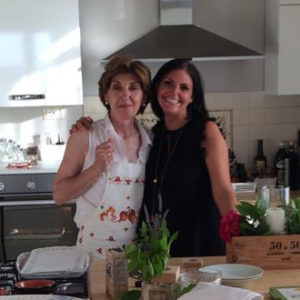 And so, let's see how to prepare our Pici,  and don't forget to send me a picture of  yours!
Pici Ingredients  (Serves 3-4)
– 250g plain white flour
– 1/2 tsp salt
– 1/2 tsp extra virgin olive oil
– 125ml warm water (room temperature)
 Preparation
Put the flour on a large wooden working surface, make a well in the centre of the flour and add the salt and olive oil. Add the water little by little, stirring with your hands until a dough is formed. The required quantity of water may be different each time. Knead the dough until firm and smooth: you'll need about 10-15 minutes. Wrap the dough in cling film. Let it stand at room temperature fro 30 min. around.
Roll out the dough into a thick disc (at least 1 cm). Cut the dough into strips… and here comes the fun! Roll each of them with the palm of  your hand on the pastry board to obtain thick, irregular-shaped spaghetti: this is APPICIARE!
Place the Pici back on the pastry board that has been dusted in durum wheat flour to keep them from sticking to each other. And now set aside to dry for at least 20 minutes.
And now let's talk about the sauce! The most traditional ones are with Ragù sauce (or Sugo, as we call it in Tuscany), or with Crumbs (crumbles of stale Tuscan bread, stir fried with oil, salt and hot pepper) or another one is with tomatoes sauce and Aglione (also called Kissing Garlic, because it doesn't create bad smell at all).
I want now to tell you about our traditional Ragu sauce, the same the my Grandma Natalina used to cook  on Sunday lunch, the same that Mum Alma prepare in our Cooking Class at Villa La Valiana.
RAGU SAUCE Ingredients  (Serves 3-4)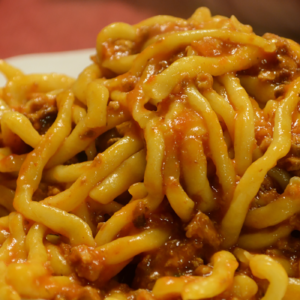 – 500g ground beef, the very best is Chianina beef
– 1 carrot
– 1 onion
– 1 celery stick
– salt and pepper,garlic, extra-virgin olive oil
– ½ glass of red wine –
– 500g seasonal ripe tomatoes or in absence peeled tomatoes in can.
Finely chop the onion, celery and carrot and brown them in a pan with oil. Add in the ground meats and season with salt and pepper. Sauté the ingredients at a high heat for around 10 minutes and then douse with the wine (there is no way to go wrong, here it's Nobile di Montepulciano wine!).
Once the wine has completely evaporated add in the tomatoes that have been pureed, lower the heat and simmer for around two hours.
Cook Pici in boiling salted water for about 10 minutes, add the Ragù sauce to the Pici and serve it adding grated  Parmigiano Cheese if you desire.
And now…just eat