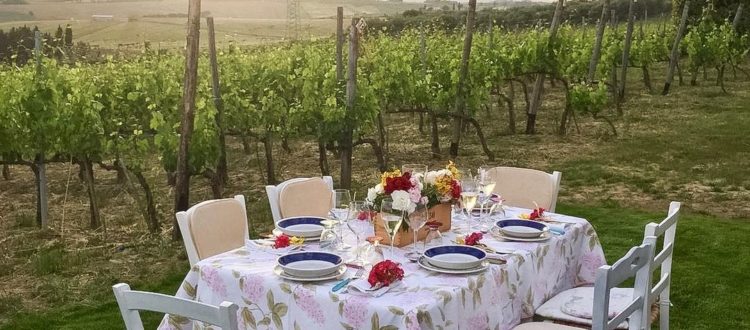 The Dinner in the Vineyard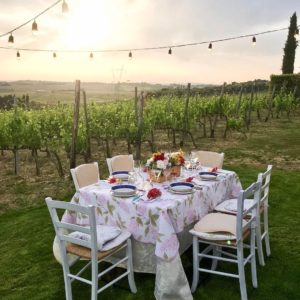 It was a summer evening at La Valiana, my dad Ivo was grilling a tasty Florentine T-Bone steak, mum Alma was putting on the table her Pici with Ragù, and I was gazing at the sunset over our vineyard of Sangiovese grapes – in Montepulciano called Prugnolo Gentile. The fiery sunset of August in Tuscany, the rolling hills running until Montepulciano skyline, and the scents of summertime in the countryside…
About it, this is the gift from La Valiana: you will never forget the Mediterranean scents felt here in the air.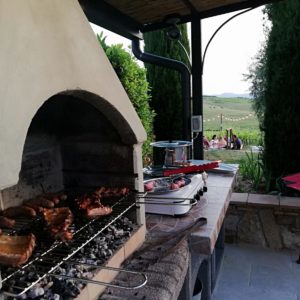 In that summer evening with the family this image flashed in my mind: a table among the rows lit by fairy lights – just like at the grape harvest party at the time of  my grandparents -, nice meal and some friends around the table, Cole Porter's songs playing in the background and sometime even some Pavarotti's opera songs, the grilled meat scent and the goblets brim with good red wine. So was born the idea of the Dinner in the Vineyard.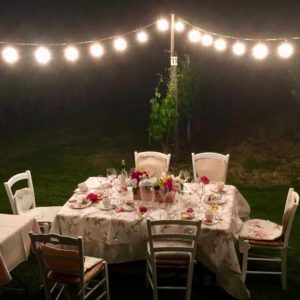 The Bruschetta, a freshly toasted slice with cherry tomatoes we grown, the Gigli (a kind of pasta typical of Val d'Orcia) with basil pesto from the garden, and grilled steak cook by dad Ivo, the cake with fresh Ricotta cheese cooked by Mum. And then chats and folks around the table, some toasts and laughs with friends, a little dancing sometime among the rows, and the song of the swallows in the air. Before it was a dream, now it is the Dinner in the Vineyard at La Valiana.